As businesses continue to adapt to a post-pandemic world, the need for reliable and health-conscious cleaning services is at an all-time high. Stratus Building Solutions is at the forefront, offering professionalism, quality and reliability, all while paving the way for a greener, cleaner future, said Stratus Building Solutions owner Shafiq Mohamed.
"Our ethos is about delivering a cleaner, healthier environment for both customers and employees. It's not just about the cleaning, but about the care and the technology we put into it," says Shafiq.
Stratus's comprehensive suite of services includes routine janitorial work, hospital-grade cleaning, and green commercial cleaning, employing their proprietary Green Seal Certified Stratus Green Clean chemicals.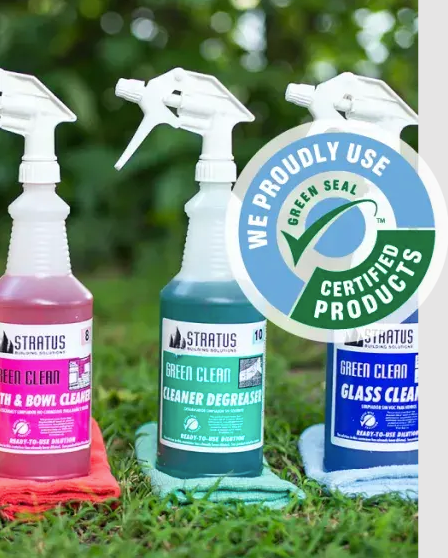 "These products are biodegradable, non-toxic, and free from known carcinogens and VOCs, which aligns with our commitment to the environment and the well-being of our clients' employees and customers," Shafiq emphasizes.
Stratus's commitment to green cleaning is not just a buzzword but a practice. As the first in the industry to offer proprietary Green Seal Certified chemicals, Stratus ensures a biodegradable, non-toxic, and fragrance-free cleaning that suits the most discerning clients.
"At Stratus, we recognize the unique cleaning requirements of each business, and we take pride in our ability to devise customized solutions," Shafiq states. "Our franchisees are equipped with cutting-edge technology and are rigorously trained to ensure every inch of our clients' facilities is immaculate and hygienic."
"In a post-COVID world, the standards for cleaning have evolved. It's about trust and safety now," Shafiq asserts.
In the face of a pandemic that has heightened awareness of cleanliness, Stratus has risen to the challenge, adapting and evolving. Shafiq reflects, "COVID-19 changed the cleaning game. It's not just about aesthetics anymore but ensuring a space is truly disinfected."
What sets Stratus apart, according to Shafiq, is their owner-operator model. "Every franchisee is an invested business owner, ensuring that the quality of work reflects their personal standards," he explains. "This personal investment is crucial. It means every space we clean, we clean like it's our own."
Shafiq also highlights the operational excellence that Stratus prides itself on, such as rapid response times to customer concerns and regular quality audits. "Our goal is to respond to any complaint within two hours. That's our promise to our clients," he says.
Stratus's reliability is backed by a heritage of over 30 years in the industry, a rigorous quality assurance program, and a franchise model that supports small business owners while maintaining high standards across the board.
"Our clients can expect uniformed janitors, consistent quality audits, and monthly satisfaction reviews to ensure we meet our own stringent standards for excellence," Shafiq assures.
With a robust 24/7 customer service system and extensive training programs, Stratus franchisees are well-prepared to handle the varied demands of commercial cleaning.
Contact Stratus Building Solutions today for a free estimate at 905-867-7149 or submit a request online.