La Traviata (The Fallen Woman) is an opera in three acts by Giuseppe Verdi set to an Italian libretto by Francesco Maria Piave. It is based on La dame aux Camélias (1852), a play adapted from the novel by Alexandre Dumas fils (Jr.). The story is based on the universal theme of lovers kept apart by family and
social status.
Sabatino Vacca, founder and artistic director of the Southern Ontario Lyric Opera (SOLO) company, feels that La Traviata is one of the top three operas everyone should see.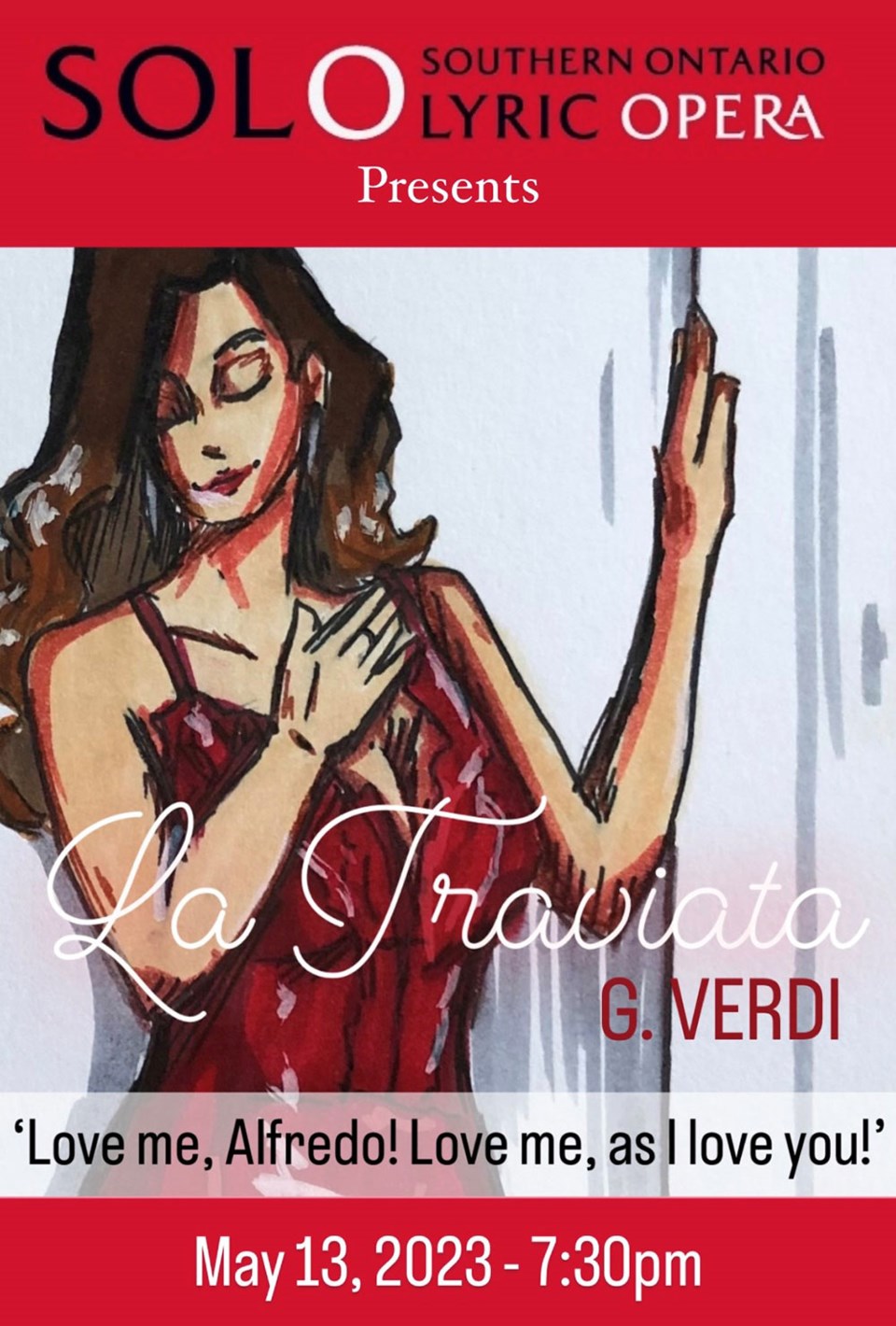 "It is loosely based on real-life characters," observed Vacca. "La Traviata is so accessible, the music is recognizable, there are so many moments where people will think to themselves 'I didn't know this is where this music came from.'"
SOLO will present a fully-staged version of La Traviata at the Burlington Performing Arts Centre on Saturday, May 13 at 7:30 p.m. with English super-titles.
In SOLO's production, Violetta (played by soprano Karoline Podolak), is a Parisian courtesan who falls in love with Alfredo (played by tenor Ernesto Ramirez), a middle-class man with limited means. Giorgio (played by James Westman), Alfredo's father, objects to the relationship and forces Violetta to abandon the relationship.
Vacca and others decided to create SOLO in 2015 to fill the vacuum left by the closure of Opera Hamilton and to bring the tradition of opera to other communities.
"Most of the orchestra is made up of professional musicians drawn from the local area," said Vacca.
Vacca also noted that part of SOLO's mission is to introduce opera to younger generations, as it did last October with its production of Hansel and Gretel, the children's classic opera.
"I could not get over how enthusiastic the kids were," noted Vacca. "Some people argue that opera is dated, there's musical theatre, all kinds of media in this day and age, but opera still strikes a chord and if you can get youngsters (and others) to see what the world of opera is about, it bodes well for the future of the art form."
As part of its ongoing outreach program, SOLO offers "Library Talks" to discuss upcoming productions and opera in general. It is a good opportunity for the public to learn more about opera, the themes behind different operas and how SOLO mounts its productions throughout the season.
On April 19 at 2 p.m., at the Central branch of the Burlington Library, Vacca will explore the music of La Traviata and why it has endured to become one of the most beloved operas of all time. Audiovisual examples will be presented, along with a live performance by baritone Michael Robert-Broder, who will be singing in the May 13 production.
To reserve a spot to this free event, call the Burlington Library at 905-639-3611.
Vacca suggested that those who are new to opera or La Traviata take the time to listen to a version or watch YouTube clips of the opera to prepare.
"The more you know about it, the more enjoyable the performance will be," he said.
Tickets for the May 13 production of La Traviata can be ordered through the Burlington Performing Arts Centre box office online or by calling 905-681-6000.