Spicy the tabby cat has got some stories to tell.
Unfortunately, Burlington MPP Natalie Pierre will likely have to live with more questions than answers.
Spicy, a rambunctious feline with four white paws, snuck out of Pierre's downtown Burlington home in 2021.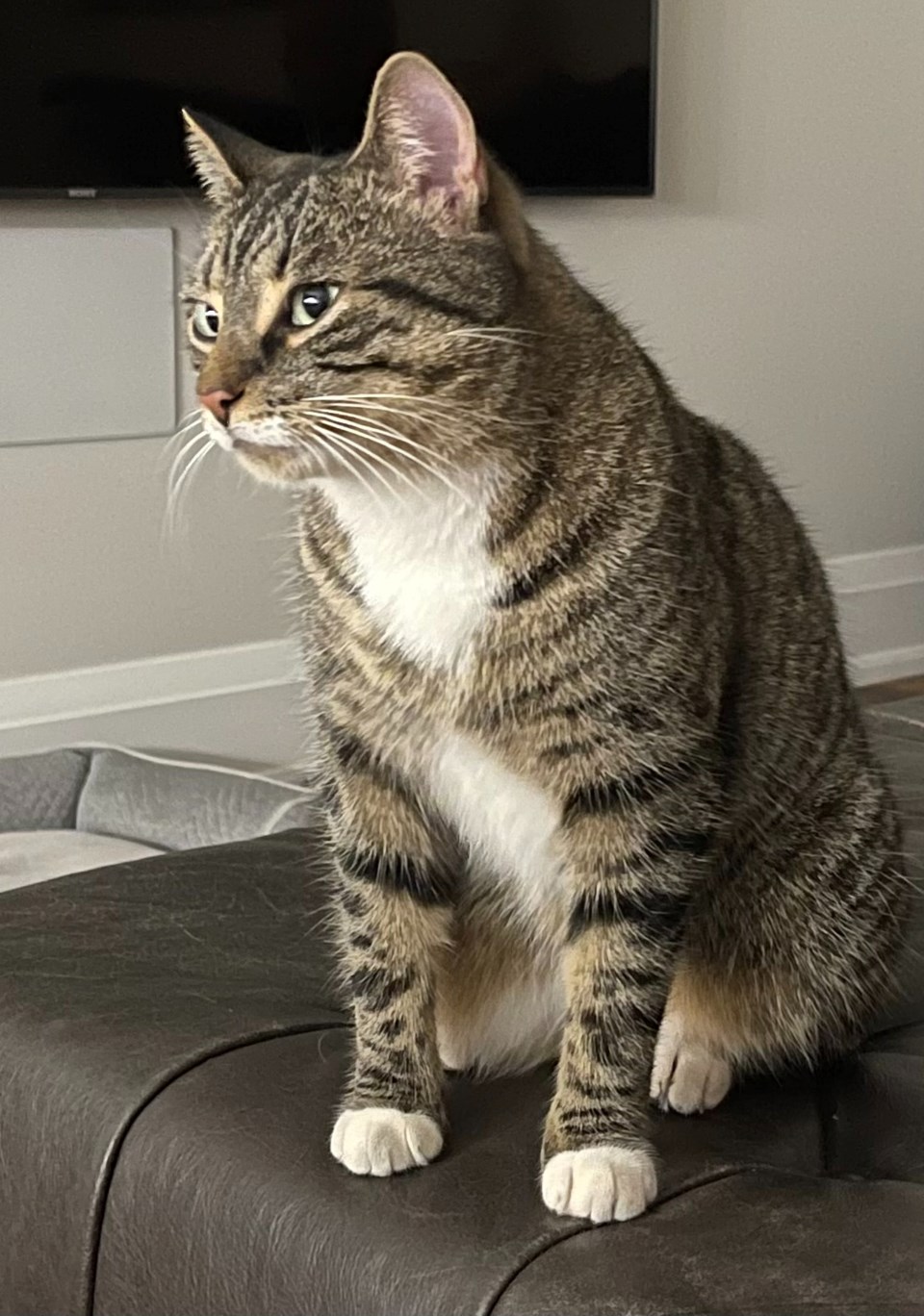 Two years and two weeks to the date of her disappearance she returned, and Pierre was able to humanely trap her and bring her back indoors where she belongs.
Spicy has already been to the veterinarian for a health check, and minus worms, is a specimen of health – no ear mites, no fleas, no signs of any struggles. Her microchip is still in place in case there was any doubt in anyone's minds that the cat was a doppleganger - this is indeed the long-lost Spicy.
Pierre had been grief stricken back in October 2021. The family was getting ready to leave the house to attend a celebration of life service for Pierre's father-in-law, and during the chaos, the cat escaped.
Hours later, after returning home, Pierre searched the neighbourhood, but couldn't locate Spicy. She was heartbroken.
Pierre said she continued the search for several weeks, handing out flyers and going door to door, looking in all the places a cat would seek shelter. But nobody saw her and nobody knew where she was.
Pierre, who also has a 12-year-old mixed-breed dog named Stella, purchased security cameras for the house, hoping she to catch a sighting of Spicy. She placed Spicy's bedding and scratch post outside on the porch in hopes she would come home.
"Paul (Pierre's husband) would look at me checking the camera footage to see if we had visitors and say 'It's probably time to stop looking,'" said Pierre, who fostered several mother cats and their kittens for the Burlington Humane Society in the past. "But I never gave up."
For two years, they didn't see her. Her husband suggested getting a few kittens, but Pierre said she wasn't ready yet. Something made her continue to search for Spicy.
In October, Pierre - who had left the cat items outside all this time - spotted a cat that looked like Spicy, when she was reviewing the camera footage. Could it be her? A few days later, she saw her again. She showed her husband who agreed, it definitely looked like Spicy.
Pierre got a humane trap and the first night she placed it outside, she caught her cat. Pierre stayed up waiting and as soon as she spotted her on the camera going into the trap, she went outside to bring her inside. She spent the night with her since she was traumatized.
Within an hour, Spicy, after gobbling down some food, made her way onto Pierre's lap. The next morning, the dog and cat got acquainted and now Spicy is living the dream.
"I still can't believe it," Pierre said; "I don't think she was (ever) far away."
Spicy had led an eventful life, using up at least one of her nine lives, even before she vanished. Pierre's brother, a fellow animal lover, rescued Spicy when he was at a construction site near the Don River. Spicy, then a tiny kitten of about eight or ten weeks old, fell out of the back of a dump truck emptying gravel. She promptly ran onto a railway bridge that crosses the Don River. Another construction worker rescued her from a steel girder on the bridge.
Pierre's brother, who already owns several stray cats he's found while working at construction sites or from the side of the road, brought the kitten to her because she had previously had a cat who died.
She named her Spicy because as a kitten, you could barely touch her. She'd hiss and growl, but after some patience and perseverance, the cat was purring and letting people touch her.
"She's very healthy and I don't think she's been outside two years," Pierre said, adding the vet said Spicy's condition to have been living rough all this time. The vet figures someone's been taking care of her.
Pierre thinks she was probably inside somewhere before making her way back home. The house has become much more structured these days, and the family has special protocol now, only entering or exiting through the garage so there are no more escape opportunities.
And, Spicy is now air-tagged, so there will be no more worries even if the feisty feline decides to try her luck outside.