Local Rotarians are gearing up to host Waterdown's biggest party of the year: Waterdown's Oh Canada Ribfest, which runs from June 30 to July 3 at Memorial Park.
And with just weeks to go before the event, the "big rib fest with a small-town feel" is on the lookout for enthusiastic volunteers to join the team and make Ribfest bigger and better than ever.
Ribfest volunteer coordinator Ryan Bridge says they're looking for about 400 volunteers to help run the four-day festival, which is a joint project of the Waterdown Rotary Club and the Rotary Club of Flamborough AM.
"We rely on community volunteers to step up and help us on game day to make the event truly successful," Bridge said. "And since 2010, when we first started Ribfest, we've got amazing support from our community."
Ribfest raises thousands of dollars each year, all of which goes to local charities such as the Food For Kids program, which supports 29 children at Waterdown schools, and Rotary Garden Court, a housing community for low income seniors.
Ribfest funds also support the Flamborough Women's Resource Centre, the HOPE Centre, the Flamborough Santa Claus Parade, and many other initiatives.
"Part of our success has been because of the people in the community itself," Bridge said. "They support our goals, and on the other side, we've had people streaming in to volunteer, trying to help out."
This year, Ribfest organizers hope to see more adults come out to volunteer – even if it's for just one shift.
"The shifts run usually three to four hours," Bridge said. "For adults, it's mostly in the beer tents and the token tents, and as Ribfest ambassadors."
Beer tent volunteers at the four-day event are responsible for taking payments and serving beer at the four-day event, while volunteers working in token sales will be selling tokens using point of sale (POS) devices.
"We're also calling out for volunteers who can be Ribfest ambassadors," Bridge said. "Ambassadors are at the gates, they have a tiptap device for people who want to give a donation to Rotary."
"Ambassadors also give people directions around the park, and help visitors better understand all the things going on at Ribfest."
Bridge says organizers are expecting 55,000 visitors through the gates, so every volunteer will be contributing.
"It's a community event, and the community really steps up to make it a success. We're very proud of that. And we're very happy to be part of this community," Bridge said.
In exchange for their much-needed effort, Ribfest organizers will also have water and snacks on hand, as well as a commemorative t-shirt for volunteers. They'll also make sure that volunteers have everything they need – sunscreen, tools, gloves – for the role.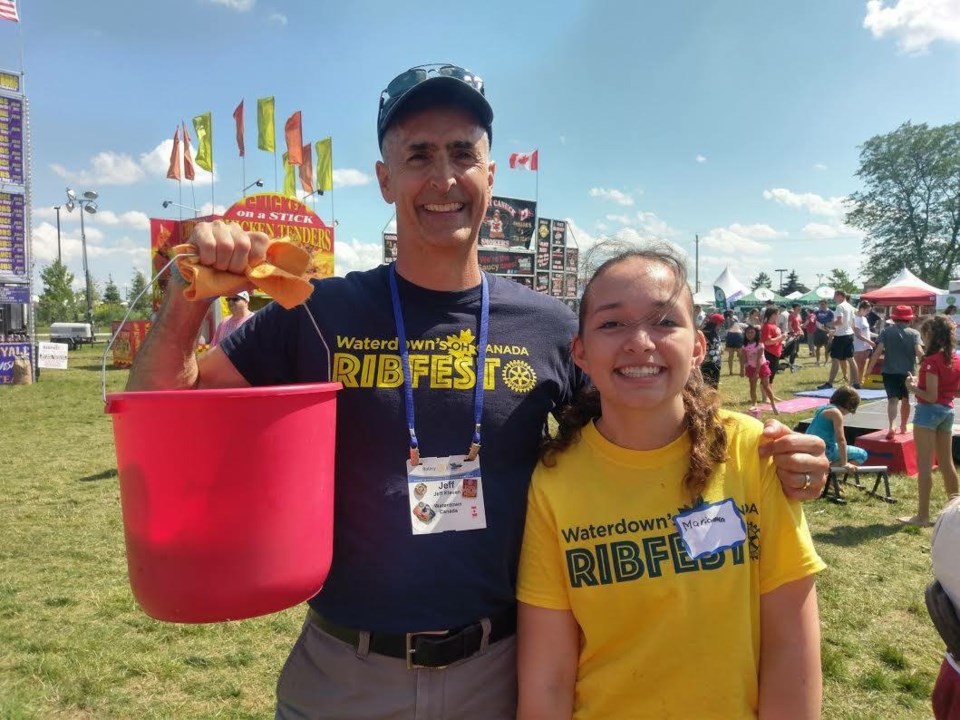 Students looking to earn their volunteer hours for secondary school are also encouraged to join in the fun.
"Student volunteers are great," Bridge said. "They help with our recycling and help at our gates, along with our ambassadors. And at the beginning and end of the weekend, students also help us set up and take down."
He points out that Ribfest not only celebrates the beginning of summer, but it also brings people together – and volunteering to be part of it takes community engagement to the next level.
"It really is a chance for the community to get together," he said of the event. "People just like to get there and see people and talk to people. It's the most social event in the community.
"We'll consider it a success if people are happy and the whole community gets involved."
To sign up as a volunteer for the Oh Canada Rib Fest, follow this link.