With high school graduation approaching, Rebekah Lee was still undecided about where to continue her education. After winning two OFSAA championships at Notre Dame and an Ontario Cup with the Burlington Bayhawks, she hoped to continue her soccer career.
Then while her brother was playing in a basketball tournament at Seneca College, Lee's mother took note of the banners in the gym and suggested her daughter look into the programs the college offered. Lee found a new program that piqued her interest – crime and intelligence analysis, which involves predicting crime patterns. And a strong soccer program that was a perennial contender for the Ontario championship didn't hurt.
Three years later, with Lee a key figure in one of the nation's top defences, Seneca Sting coach Luca Sirianni says one of Lee's strengths is always being in the right spot.
And after helping the Sting win the Canadian Collegiate Athletic Association, it's clear Lee found the right spot when choosing schools.
Seneca edged Quebec's Dynamiques de Sainte-Foy 1-0 in the championship game in Charlottetown, PEI last Saturday, becoming the first Ontario college to ever win the national title.
"It was kind of surreal," Lee said. "I just dropped to my knees (after the final whistle). I was just so overwhelmed that we were able to do it."
Seneca did not lose a regular season game in Lee's first two seasons, but they ended with losses in the Ontario semifinals and final. This season, Seneca went 9-1 but found itself trailing Humber 1-0 early in the Ontario final. It was just the second time the Sting had trailed in a game all season. It would also be the last. Seneca stormed back with two goals before the half and then added an insurance marker in the second half for a 3-1 victory.
It was a measure of revenge for Seneca after losing to Humber in the final the previous year.
"We've always had the calibre of team to win it," said Lee. "Part of it has been mental. In past years it hasn't worked out. It's things like being able to comeback after being down a goal."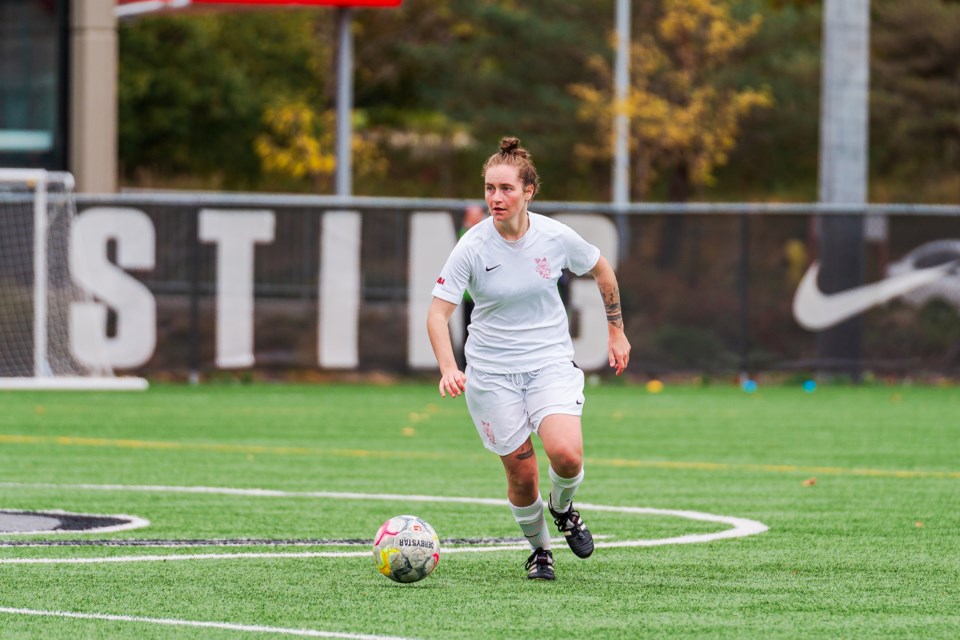 The Sting would not have to worry about that at nationals. Not only did Seneca not fall behind, it didn't allow a single goal in its three matches. It wasn't easy, though. Seneca's defence kept No. 1-ranked Saint-Lambert off the score sheet in the semifinals, but the Sting needed a pair of goals in the final five minutes to win 2-0.
Seneca allowed just six goals in 17 games this season. Lee, a two-time OCAA first-team all-star, played a key role in locking down opponents, even as the level of competition rose. That ability was recognized when she was named most valuable player at the provincial championship and then named to the all-tournament team at nationals.
"Positionally she's very intelligent. She knows where to be to disrupt or intercept opponents' attacks and is very good at starting our attacks," Sirianni said. "She's highly competitive. Whether its sprinting that extra metre in practice to get to a ball, you see her competitiveness and sacrifice and that rubs off on others."
Lee said winning for the Sting's graduating players motivated the team, but so too did the Seneca community with the support it showed throughout the team's championship run.
"We came into the season with the goal of winning Ontario, and once we broke that door open, it was let's go win nationals," Lee said. "Making history, it was even better."