Get ready to lace up, runners and animal lovers – the second annual Bronte Creek 5K/10K run is just around the corner.
On Sunday, May 28, runners can show their support for the Oakville and Milton Humane Society (OMHS) by running or walking through scenic Bronte Creek Provincial Park.
This year, the event – put together by VR PRO Races – introduces a 1K dog walk as part of the OMHS Mission Pawsible Campaign.
By participating in the race, you'll not only achieve your fitness goals and hit your running targets, but you'll also contribute to supporting animals in need.
Bronte Creek Run organizer Kelly Arnott said she's looking forward to runners – and walkers! – getting the chance to experience the lush Bronte Creek Provincial Park, which is quickly becoming a favourite destination for the surrounding community.
"Really, people just like to come out and enjoy the park – it's gorgeous," Arnott said. "They also enjoy raising money for charity, they enjoy the atmosphere, they enjoy the beautiful nature."
The park is perfect for runners – it boasts over 10 kilometres of multi-purpose trails – and has become a favourite in the urban landscape. A perfect place for a Sunday run.
"Another thing that is so special about the Bronte Creek 5K/10K is that the race actually involves people's pets," Arnott said.
"Participants get to run or walk with their dogs, raise funds, and just have a great day."
Pets will be looked after, Arnott said, with watering stations and rest areas spaced along the trail.
"We really want to make sure that the animals are safe and don't get overheated," Arnott said. "We'll have lots of fresh water available, and three or four pools to cool down in."
Racers will also be contributing to another community cause: support for Kerr Street Community Services, a group that has been providing essential programs and services for families and their children for more than two decades.
Sponsors Liberty Utilities and Algonquin Power were also instrumental in making the event happen.
"Without community support, and great sponsors ready to step up, we couldn't hold events like this," Arnott said.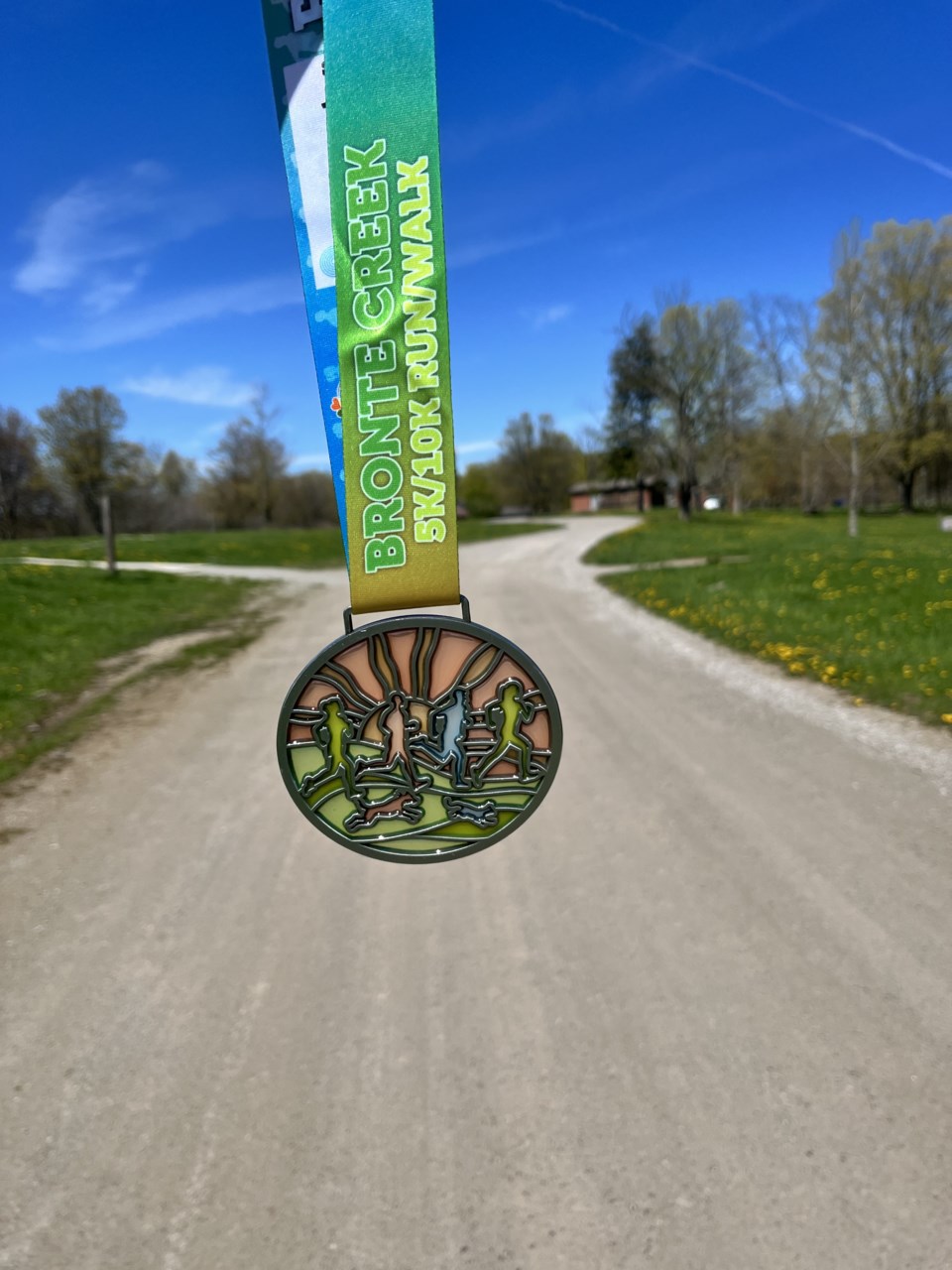 There's also something special waiting at the finish line.
The first 400 participants who register to run or walk the 5K/10K event can look forward to receiving a one-of-a-kind finisher medal as a reminder of their accomplishment and commitment to the OMHS.
Sponsor Stagg Chili will also be helping out with tasty eats at the finish line.
Arnott said that runners and walkers of all abilities are welcome, so don't hesitate to sign up now while spots are still available!
Registration in the 1K event is free, but a suggested donation of $25 will go towards the OMHS.
Sign up to make May 28th race more than just a fun day out – help improve the lives of animals at the Oakville and Milton Humane Society by contributing towards their care and well-being.
The Mission Pawsible 1K Run/Walk will start at 10:30AM, and the 5KM and 10KM race will start at 10:50 AM.
And to sweeten the deal, runners who sign up for two or more of VR Pro's 2023 races will save 30 per cent on registration fees for each race. You can learn more about that offer by visiting VR Pro's web site.
Don't wait – register today and let's make this Bronte Creek Run a pawsitive success for both our community and its furry friends!
To register, follow this link to the Race Roster web site.