EDITOR'S NOTE: This article is part of a new BurlingtonToday series — 'THIS IS BURLINGTON' — that showcases the people, places, organizations and businesses that make our city so special. Click HERE to read every story in the series, which will run throughout the month of November. This article was originally published on Nov. 14
Viewing his work on display at the home of Toronto's beloved hockey team is a total blur to Cass Keenan.
The artist, 26, attended the recent opening of the art collection at Toronto's Scotiabank Arena as part of renovations. He painted three watercolour portraits for a series featuring iconic players titled Pride, Honour and Courage: Wendel Clark, Darryl Sittler and Börje Salming. They are located on the second level, between suites 233-234.
Standing among some of the selected 30 artists at the event, the Burlington resident said, "How am I here? I was having imposter syndrome," he said. "I mean, here I am and there's Dan Peaton."
He's referring to another artist whose works were also selected; Peaton, from London, Ont., does intricate pencil drawings and he's been commissioned by many pro athletes for his highly-detailed artwork.
Keenan, whose art is stunning, should be expecting his own commissions now.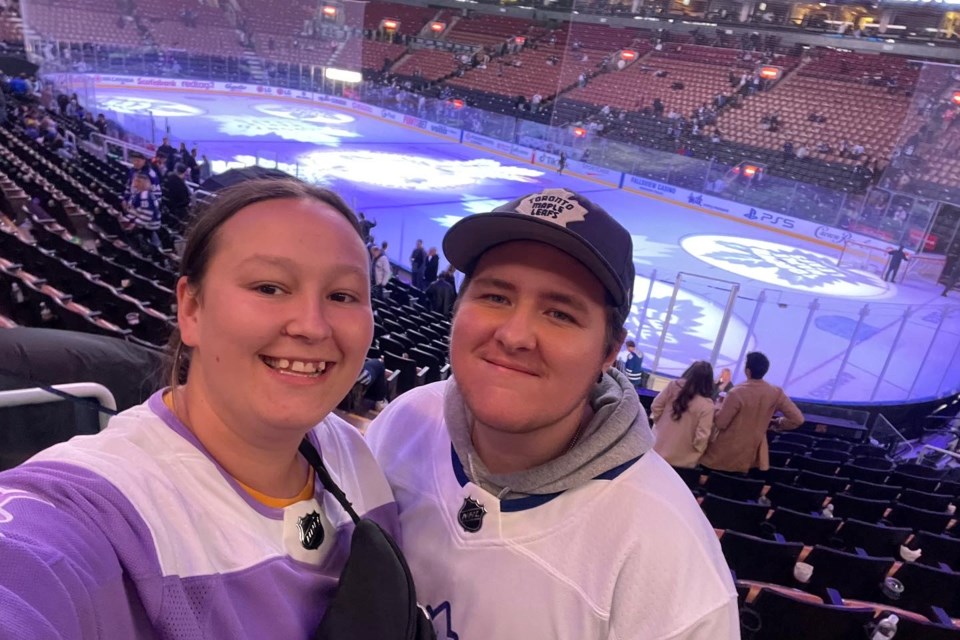 "I cannot believe that I'm in the same room with his artwork," he said, adding he didn't have the courage to talk to Peaton at the event. "I kind of blacked out while I was there, it was unreal."
He says his artistic style is mostly realistic and he enjoys being able to find and emphasize the emotion in the person through colour and expression.
"I've always loved to be able to express myself through art; I love being creative," he said.
He found out in the spring that he had been selected for the collaboration; it's his first paid commission, he added.
In January, Maple Leaf Sports and Entertainment (MLSE) publicly launched a call to source and acquire art and photography for Scotiabank Arena. Keenan's fiancée Andrea Chiassan encouraged him to submit his work.
In collaboration with Sports and the Arts, a group with a goal of bringing fine art to some of the most recognizable sports venues in the world, MLSE was looking to design a one-of-a-kind museum quality art collection inside of Scotiabank Arena. They wanted it to be created by local, regional and national artists, showcasing sport, music and history that tells Canada's rich and diverse story.
When Keenan found out he was one of the artists selected, he had to pinch himself; he was now part of the group of artists and muralists of all levels and experience and from all backgrounds and cultures to be part of the permanent collection.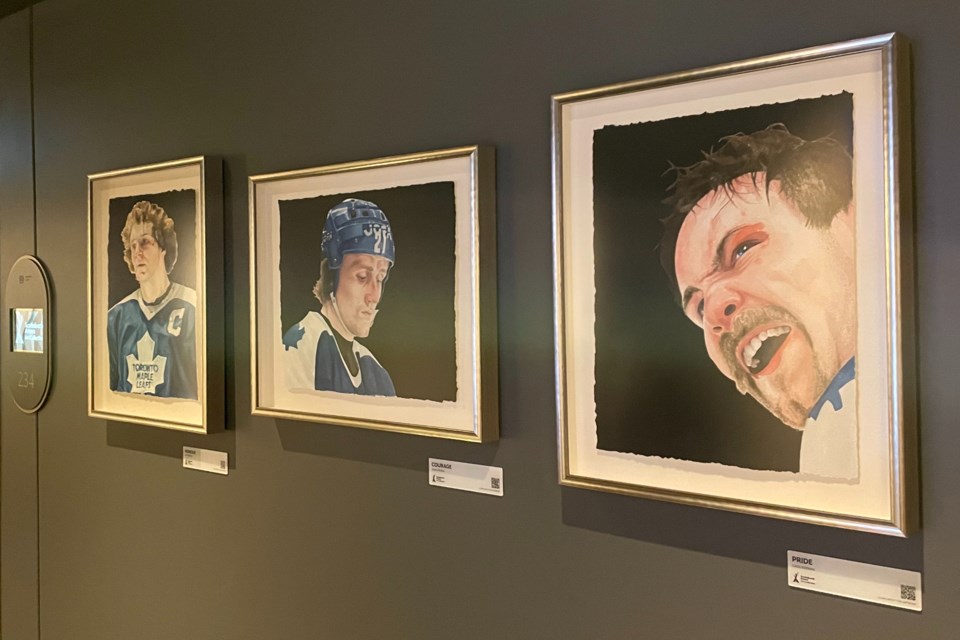 Keenan, who works full-time at McDonald's at Upper Middle and Guelph Line, said he spends every moment outside of work painting: when he gets home, he starts, he starts dinner and paints while it's cooking, If he's not tired, he continues again after eating.
The only thing that stops him is watching the Leafs play. He doesn't miss a game.
"The Toronto Maple Leafs has been my team since day one," he said. "I swear my parents put a Leafs jersey on me before my first diaper."
So, the combination of his two favourite things – the Leafs and painting – was surreal.
He drew inspiration from the stories his parents shared with him of their favourite players.
"The only thing I've loved longer than drawing is hockey," he says. "I couldn't believe it at all. My childhood team that I loved. I couldn't believe it, and I wasn't even going to apply."
Keenan was notified that his work had been selected at the end of March, just after his birthday. He had submitted one of his watercolour paintings, along with a pencil drawing that he'd done of Leafs' centre Auston Matthews.
He said he was shocked - and he isn't alone.
"My parents were blown away, and I got to paint their favourite players," said Keenan, who moved to Burlington when he was in Grade 2. "My mom (Lori) was on the verge of tears."
He's previously gifted his mom, a huge Raptors' fan, with a painting of former star Kawhi Leonard, another one of her favourite athletes.
Keenan attended Robert Bateman Secondary School. There, he says, art teacher, Vicky Visconti encouraged him and told him to pay attention to what he was doing because his work was good.
"She was a really good motivator and I wrote to her when I was selected," he said, noting she was not surprised. He went on to study art fundamentals at Sheridan College when he graduated.
Currently, Keenan is working on a painting of Leafs' Travis Dermott. In his spare time, of which there isn't much, he said he's finally learning to skate.
He credits his mom, grandparents (Nan and Grandma) for some of his creative talent. And while his brother didn't get the same attributes, he says his younger sister's portraits "blow my own out of the water."
His Instagram is @casskeenan, where you can find his artwork.