UPDATED: NOV. 14, 2023:
Due to illness, Theatre Burlington has cancelled all Jack and the Beanstalk shows scheduled for this weekend (Nov. 18 and 19).
All ticket holders will be contacted and offered the alternate dates:
November 25, 2023 @ 1:30 or 3:30 PM
November 26, 2023 @ 1:30 or 3:30 PM
December 1, 2023 @ 7:30 PM
December 2, 2023 @ 1:30 or 3:30 PM
Full refunds are also available, and organizers apologize for the inconvenience.
Tickets are $12 and available at theatreburlington.on.ca. Contact the Box Office at 905-639-7700. Please be aware this number may be busier than
usual.
ORIGINAL POST: NOV. 3, 2023
Theatre Burlington soars to new heights this fall with its annual children's show.
Jack and the Beanstalk, an adaptation of the classic fairy tale, is one in a series of children's plays written by the late Vic Hyde, created as a way to introduce youngsters to the magic of live theatre.
The show is directed and produced by Michael Hannigan and Kathy Hyde Nagel. Hannigan directed the play 10 years ago, and is excited to bring a new version to the community.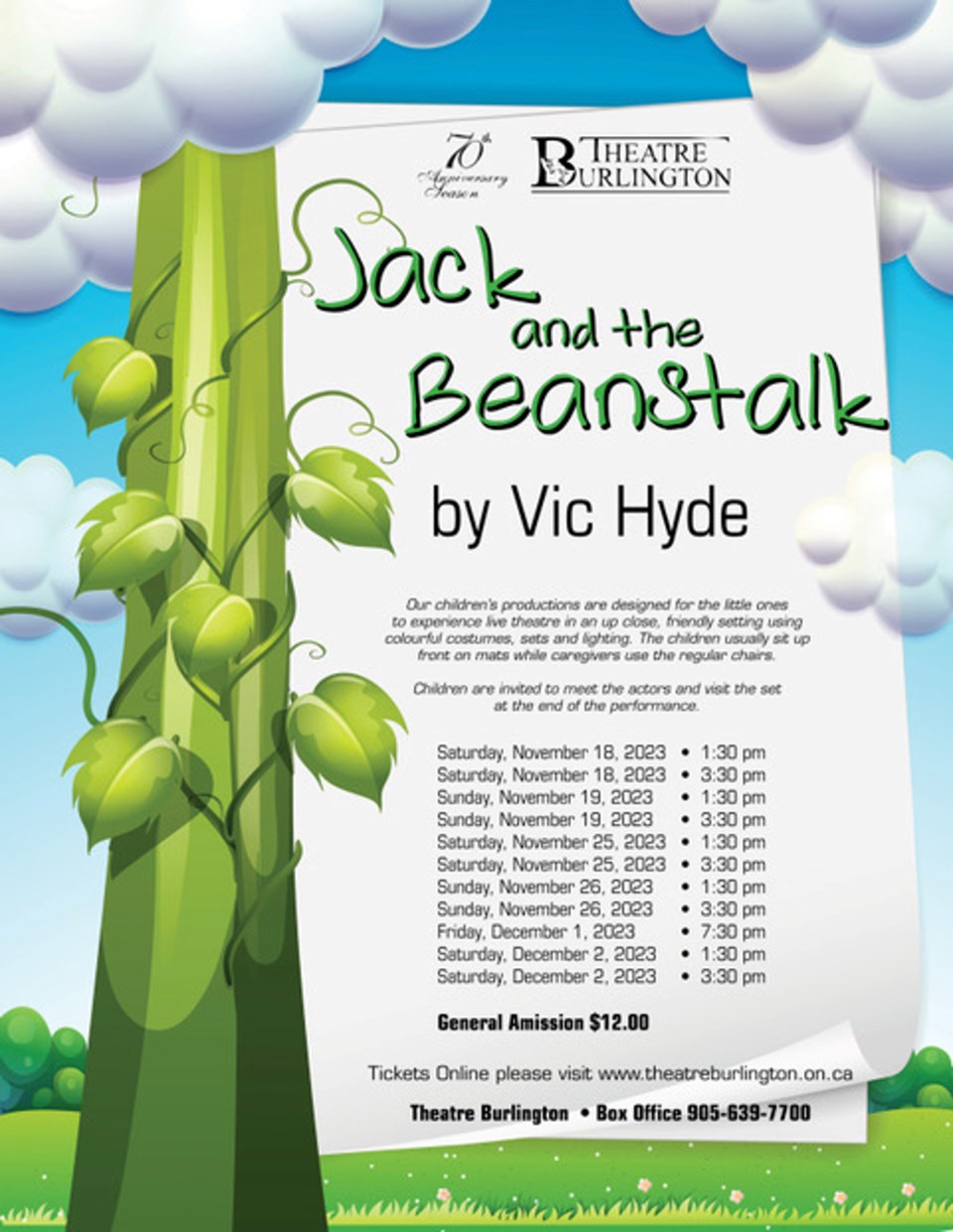 The original script was penned in 1964, and while the basic story remains, Hyde-Nagel (Vic's daughter) has updated the play to include more modern references, and a couple of new characters, a pair of brothers from a famous video game.
The format is similar to an English pantomime, with lots of laughs, music, dancing and, of course, a giant. Audience participation is encouraged.
Jack and the Beanstalk opens next Saturday and runs for three weekends. (Nov. 18-19, November 25-26, Dec. 1-2). There are two shows on Saturday and Sunday (1:30 and 3:30 p.m.) and one evening show (Dec. 1) with the curtain going up at 7:30 p.m.
Theatre Burlington is located on Teen Tour Band Way, behind the Central Park bandshell, beside Central Library. Tickets are $12 each and are available at theatreburlington.on.ca.